After talking today in class about examples related to Mrs. Dalloway (like Run Lola Run and Community) that showed how intricately our lives are interwoven and how they can affect each other unintentionally, I found myself coming up with a couple more examples and I just thought I would share them.
I'm sure (or I hope) that most of you have read Harry Potter and The Prisoner of Azkaban.  If so, you will be very familiar with this: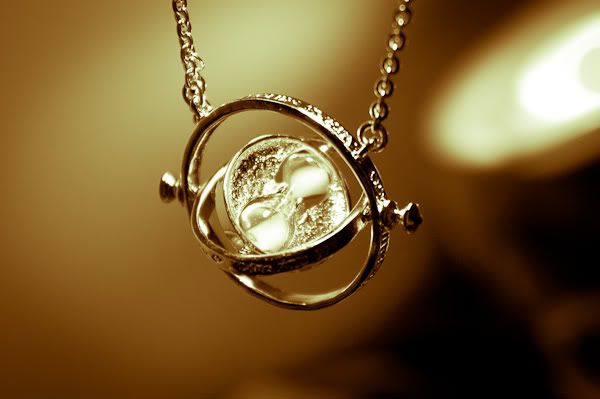 Hermione's time-turner.  In the book and the film, we see how delicate time really is.  Any single action can alter what happens in the future, and Hermione uses the time-turner not only to attend more classes than her schedule can handle, but she also is able to save Buckbeak from his untimely death by altering history.  Everything Hermione did while going back in time worked in a domino affect and created an alternative outcome to what originally occurred.
The same sort of outcome happens in the movie series Back to the Future.  When Marty McFly initially travels back in time, he accidentally attracts the affections of his own mother (which is very disturbing…).  As he alters history simply by being present in a place/time he shouldn't have been, parts of the life he once knew (like the house he grew up in) slowly begin to disappear, and he has to help his own two parents fall in love so that he will still be born one day.
One last example I thought of was the collective works of author Sarah Dessen. Most of Dessen's books (which have been written over the span of 15 years) are based in the fictional town/area of "Lakeview". Dessen writes the stories as if they are all happening simultaneously.  Her characters cross paths throughout her novels because they all live in the same town, but they appear in a "cameo" sort of way. I've had to read her books more than once so that I could actually pick up on the appearances of the characters from other books, because she interweaves them so subtly you wouldn't pick up on it if you hadn't read the book that character was from.  So basically she's taken Woolf's idea of Mrs. Dalloway, and instead of writing in a continuous flow of streams of consciousness, she writes a complete novel about each person's life that appears in her stories.  You get to see how the main character in the story you're currently reading perceives the presence of a character who to them is anonymous but to you, so much more.   By doing this, it makes Dessen's writing seem that much more realistic!
Anyway, I just love the idea that every single person you meet or action you carry out will put your life down a certain path.  I'm sure I'm going to be noticing other examples of this everywhere now, but I just felt like sharing these three for now!